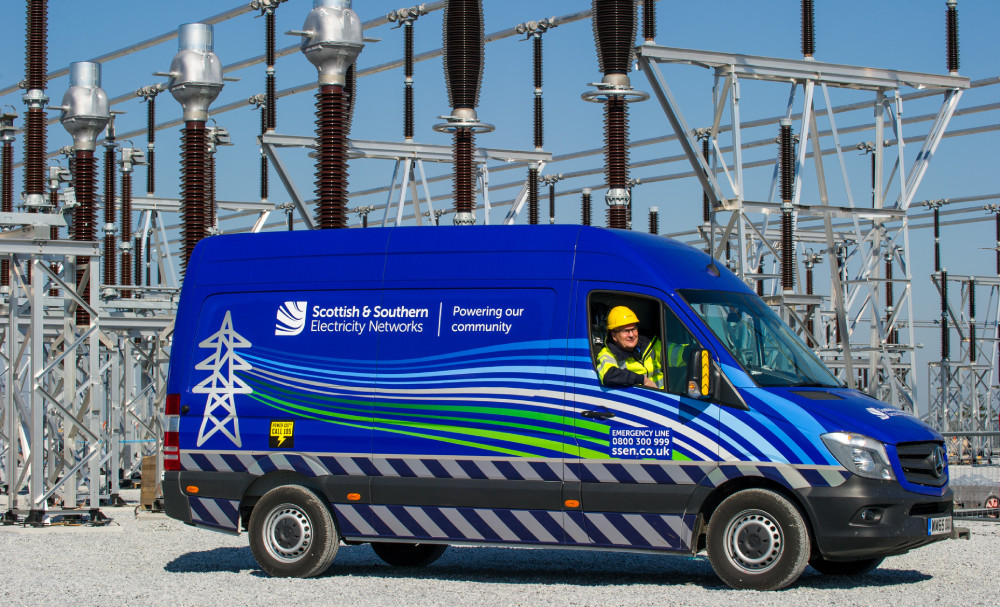 2010s
A recharged brand
Scottish and Southern Energy plc was officially renamed to SSE plc and a new look brand followed in April 2014. This was complimented by the Company's first-ever national television advertising campaign featuring Maya the orangutan. SSEPD (Scottish and Southern Energy Power Distribution) delivered its largest ever customer communications campaign and in 2016 rebranded to Scottish and Southern Electricity Networks.
Image: New branding on SSEN vehicles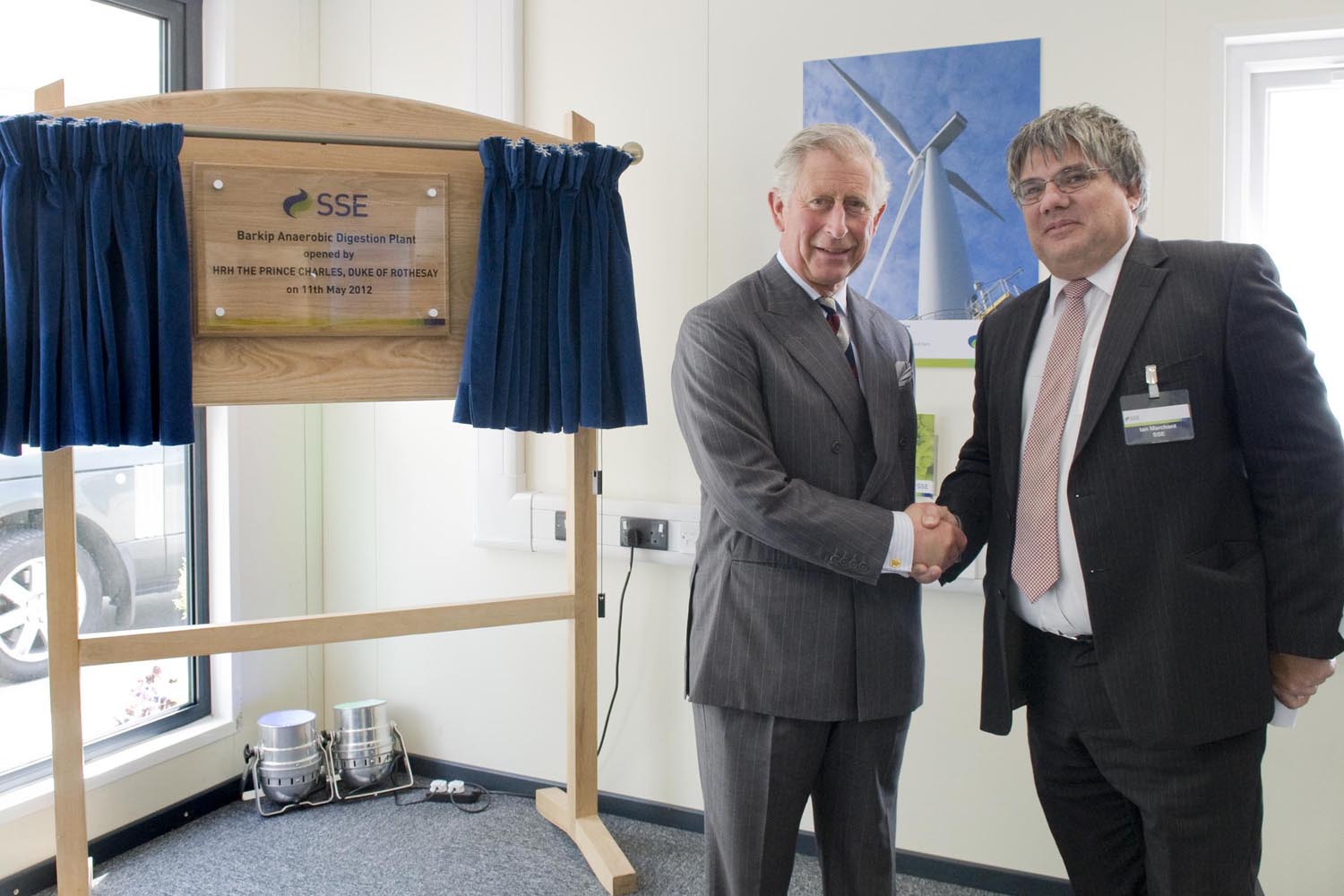 Sustainable development
After a brief foray into nuclear power development, the decision was made in 2012 to sell SSE's stake in NuGeneration Ltd. Around the same time SSE was the first energy company in the UK to commit to the construction and operation of an anaerobic digestion biogas plant at Barkip in North Ayrshire. The opening of Clyde wind farm marked the Company's position as the largest generator of electricity from wind across Great Britain and Ireland, with onshore wind farm capacity exceeding conventional hydro-electric capacity for the first time. A new 25-year Sustainable Development Fund to support communities impacted by construction of renewables projects was launched in 2013/14.
Image: Opening of Barkip anaerobic digestion biogas plant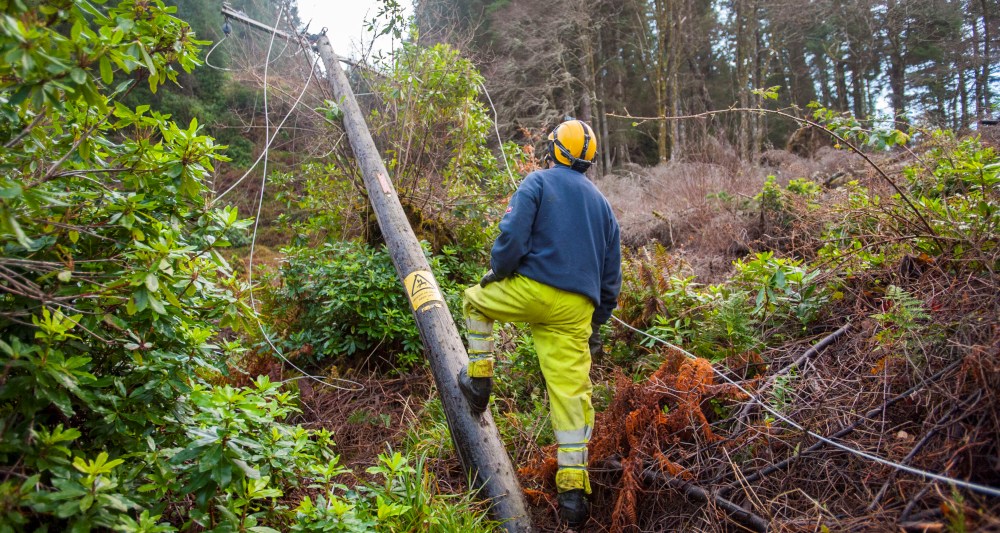 Battling the elements
SSE's electricity network was subjected to the effects of severe weather on an unusually large scale. January 2012 saw the North of Scotland experience wind speeds of over 90MPH resulting in the loss of power to around 40,000 households. The equivalent of three months of fault repair work was carried out in four days. Two months later saw extreme snow fall and ice in the West of Scotland which inflicted unprecedented damage on the electricity network on Arran and Kintyre.
Image: SSEN worker inspecting storm damage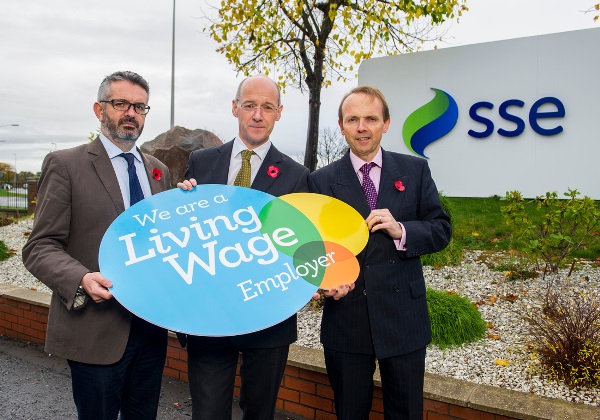 Setting the standard
In 2013 SSE became the largest company in the FTSE to become a Living Wage employer and the first FTSE100 company to be awarded the Fair Tax Mark accreditation.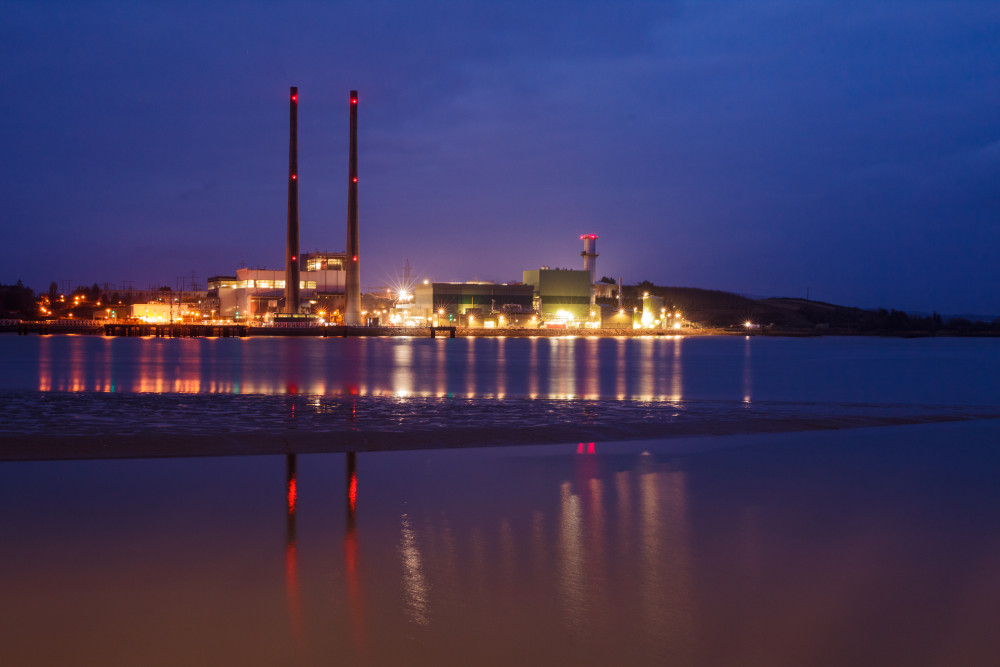 Powering Irish homes
In Ireland, the Combined Cycle Gas Turbine (CCGT) power station at Great Island, Co. Wexford entered into full commercial operation in April 2015 and generated enough clean, efficient energy to power the equivalent of half a million Irish homes.
Image: Great Island CCGT power station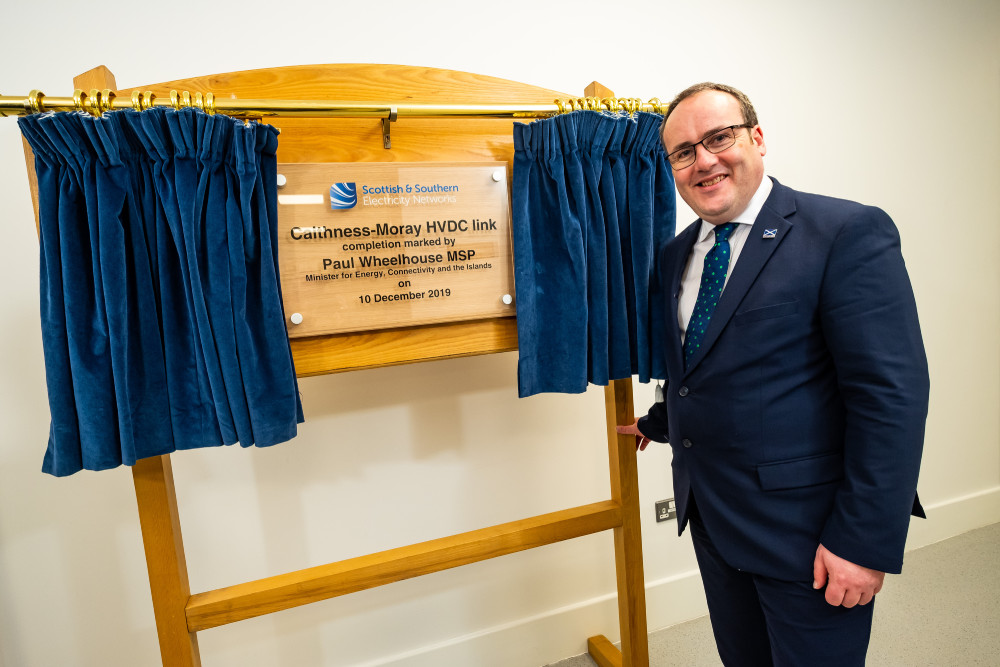 Celebrating clean energy
The decade was to see around 20GW of the UK's capacity for generating electricity (largely coal, oil and nuclear) scheduled to close because of its age or its inability to comply with higher environmental standards. SSE made the decision to cease coal-fired electricity generation at Ferrybridge and a period of decommissioning was entered into in 2016.
The replacement Beauly-Denny 400kV overhead line was energised in November 2015 and the following year was a record for SSEN with over 500MW of renewable electricity connected to the network.
2016 also saw the investment of £4m in a new purpose-built visitor centre at Pitlochry dam celebrating renewable energy and hydro heritage. This was officially opened by the First Minister of Scotland, Nicola Sturgeon, in February 2017, who was joined by some of the original Tunnel Tigers who lived and worked on the schemes during construction.
Image: Opening of Caithness -Moray HDVC link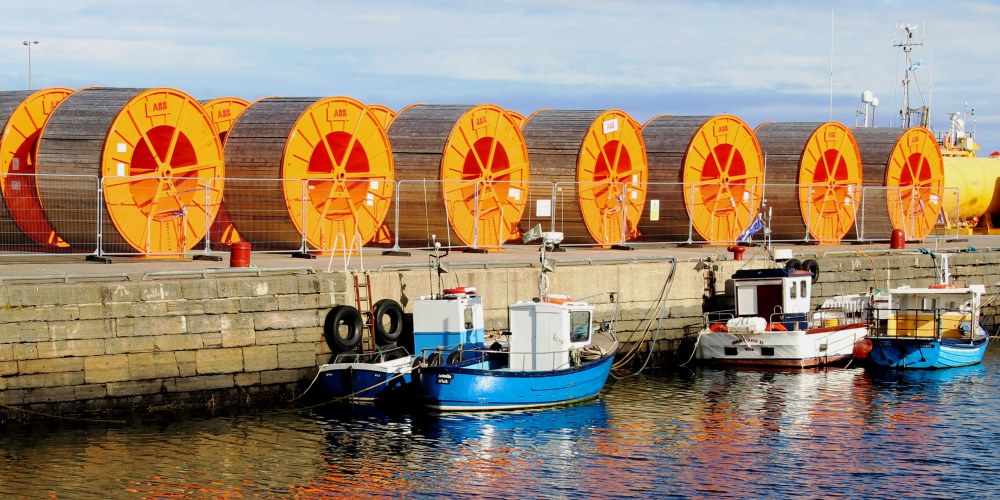 A decade of renewables success
Responding to the challenge of increasing workforce diversity, SSE began to target a series of actions around gender diversity. Whistleblowing procedures were also improved and steps were taken to ensure that modern slavery and human trafficking was not present in SSE's business or supply chain whilst also establishing a new policy on Human Rights, based on the UN Global Compact, which they became a signatory of in 2018.
Diversifying our workforce
Towards the end of the decade SSE had lots to celebrate including: 75 years of hydro power in Scotland; 70 years since the formation of the Southern Electricity Board; 20 years since the merging of Scottish Hydro Electric and Southern Electric and 10 years since the acquisition of Airtricity, the Irish electricity generator and supplier.
2019 saw the appointment of the first Chief Sustainability Officer, reporting directly to the Chief Executive – one of only a small number of FTSE 100 firms to do so.
SSE's Transmission business completed the construction, commissioning and energisation of the new Caithness-Moray electricity transmission link in January 2019. With an agreed allowance of £1.1bn from Ofgem, the project was the largest single investment undertaken by any part of SSE to date.
Image: Cable drum deliveries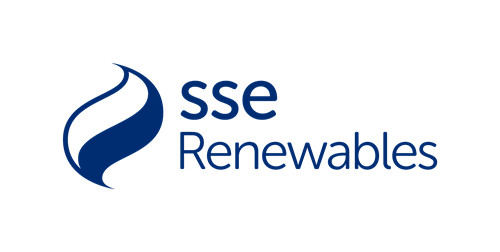 Launch of SSE Renewables
SSE consolidated its renewable energy assets in the UK and Ireland and from April 2019 it began operating under the banner of SSE Renewables. Beatrice became the largest offshore wind farm off the coast of Scotland when it became fully operational in June 2019.
The climate change mission
Major structural change began to refocus the Group on developing, building, operating, and investing in the renewables and electricity networks infrastructure needed to tackle climate change. As part of this, SSE sold its GB retail energy supply business to OVO Energy Limited in 2020.
Image: Greater Gabbard offshore wind farm